What are CLT Mats?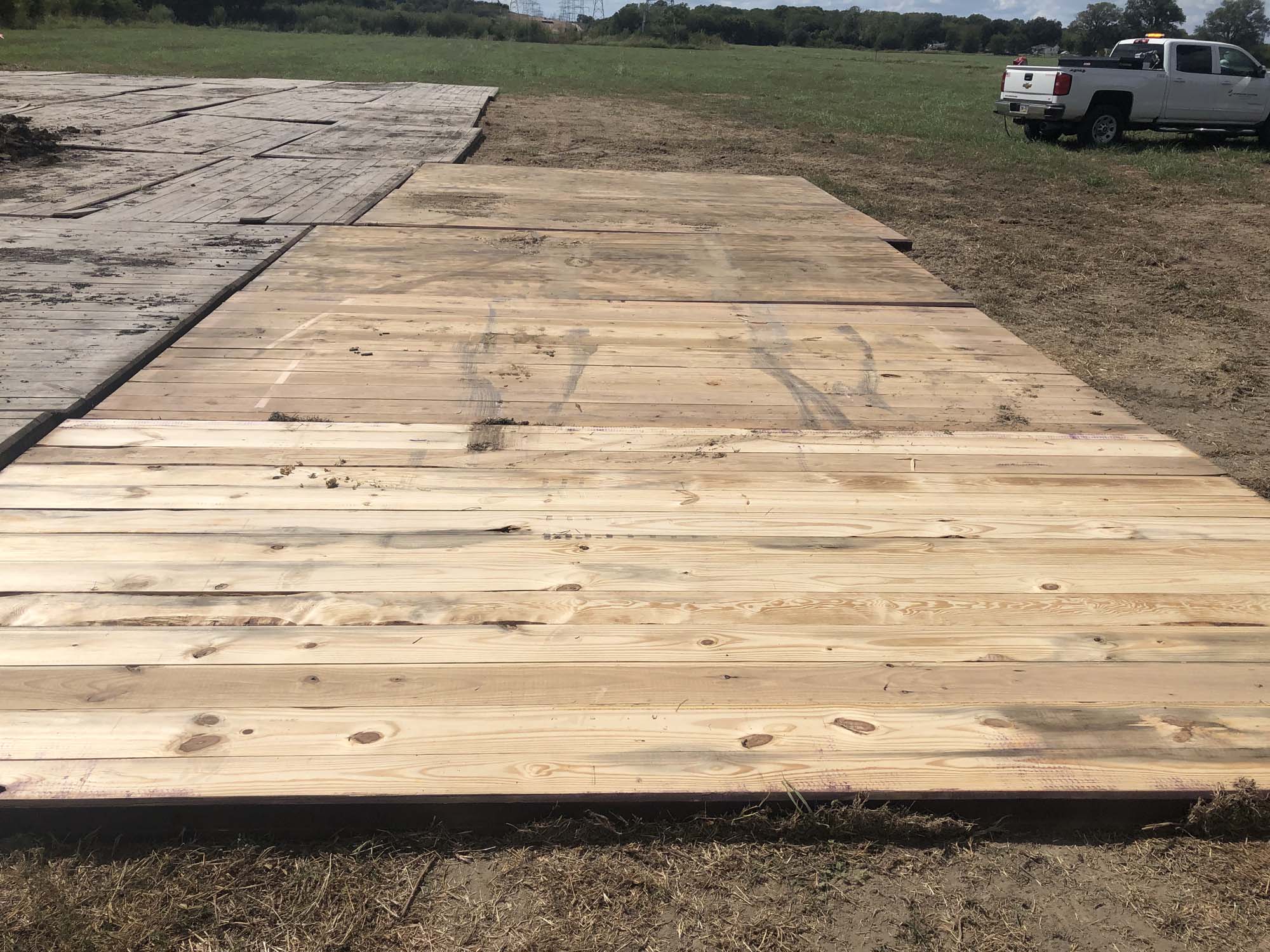 Pipeline and construction projects rarely happen on smooth ground, and oil and gas jobs can end up in the middle of swamps or areas that are wet and unstable. Road matting creates access in these locations so you can move your machines through areas on your job site where they'd otherwise get stuck.
But which road mat options are best for your site's needs? This post covers CLT mats – a commonly used wood mat that can help you cover a lot of ground.
Here's some helpful facts to help you evaluate this mat for use on your project.
What Are CLT Mats?
CLT is short for "Cross-Laminated Timber". It's made by using multiple layers of lumber, each laid perpendicular to the last. The layers are glued in place, using hydraulic or vacuum pressure to squeeze them together.
The way they're glued and layered allows for a rigid mat that can support additional weight in certain applications.
You can find them being used in Oil & Gas, T&D, and other construction-heavy industries that regularly use heavy-duty equipment in rough terrain.
3 Layer vs 5 Layer
Most CLT mats are made from 3 layers of lumber. These should only be used to support rubber-tired vehicles. However, there are variations of CLTs that are made of 5 layers of lumber, and these can support tracked machinery as well.
Engineered Wood
CLT mats are made using an engineered wood product rather than traditional lumber boards to enhance their performance.
The material is made from non-hardwood species like pine to make them lightweight. However, they can still be stronger than some hardwood mats. The way they're glued and layered allows for a more rigid mat that as a result can hold more weight in certain applications.
Pine is the typical choice of wood because it's so lightweight. But it is also far more sustainable than the hardwoods used in traditional bolted mats. This is because pine regrows to the maturity required for harvesting in less than half the time that hardwood trees do, which means forests can be replenished more quickly thus creating less impact on the environment.
Road Mat Type Differences
We carry several different options for road mats to cover different site and equipment requirements. Here's a few road matting performance categories to consider, and some info on how CLT mats compare to your other options.
Lightweight
CLT mats are up to 40 percent lighter than laminated, which means you can get more loaded in each truckload delivered. Composite mats are lightweight and compare favorably in this category as well. The heaviest road matting options are timber and crane mats due to their thickness.
Rubber Tired v Tracked Equipment
CLT mats are strong and durable, but they are only for use with rubber-tired vehicles rather than tracked. Laminated mats have the same restriction, while composite mats can handle tracked and rubber-tired equipment. For heavy-duty tracked equipment, you need to step up to the thicker and heavier timber mats or crane mats.
Flexible Material
Because they're wood mats, CLT mats are not always flexible enough for use over extremely rough terrain. Composite mats are made from high-density polyethylene, so they're highly flexible.
How to Maintain CLT Mats
Like all road mats, you should drive in the same direction as the grain on CLTs. This will help preserve them and increase the likelihood of reusability.
Regular cleaning and maintenance can improve their lifespan as well. Wash them down after each job to make them easier to inspect for damage and to ensure you don't track environmental hazards from one site to the next. CLT mats can also be easily cleaned with a scraper or power washer before being moved to a new job site.
Safety Tips
Proper installation matters, as it prevents accidents and keeps everyone safe. If you feel you can use help with this part of the process, we can get your site mapped and laid out for you with ease.
You also need to make sure your crew knows how to drive on the mats. It can be difficult to enforce, but lower speeds and care while crossing will help your mud mats last a long time.
Where to Get CLT Mats
When your project goes across swampy or uneven ground, CLT mats can save you headache and hassle. And if you need to support a lot of rubber-tire vehicles, then CLT matting can be a great choice.
If you're in need of road mats for your next job, contact Select Mat for a quick quote for rental or purchase of the right mat for your terrain. 
Our mats can be delivered to you quickly from locations across the country.