Utility Poles For Sale Near Me
Select Mat provides wood utility poles for your power line projects across the entire continental United States.
We carry all of the standard sizes and treatments of power poles to meet the needs of your project and climate. This ensures that your wooden utility poles last and perform after project completion.
Sizes & Treatments of Utility Poles
Select Mat offers every wood utility pole type and size for sale near you. We focus on delivering quick quotes and delivery.
Wood Utility Poles Sizes for Sale
Utility pole sizes for sale through Select Mat include but are not limited to:
In determining the length and size of your utility poles for sale, make sure they meet the ground clearance requirement of the area. For more information on ground clearance requirements, see the National Electrical Safety Code (NESC). Factors that must be considered will include the distance between poles and the line voltage, among others.
Utility Pole Treatment Types
Wooden poles must meet certain stiffness and strength requirements in order to qualify for T&D usage. Straightness, defects, knots, and other criteria must be strictly assessed. Some of the more common wood species include:
Western Red Cedar
Douglas fir
Southern pine
Lodgepole pine
Red pine
Jack Pine
According to the American National Standards Institute 05 Committee on Wood Poles (ANSI 05.1) wood poles can vary somewhat in strength based on the species of wood used. However, any time a wood utility pole is manufactured, the difference in strength is taken into account in its dimensions. In other words, the committee concluded that wood poles in any given class will have approximately equal strength.
Telephone Poles For Sale Anywhere in the Continental USA
Select Mat provides poles to any job site in the continental United States. We have served projects in 17 states and counting, including states in the northeast, southeast, midwest, and southwest. Our headquarters is located in Texas.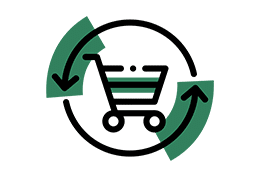 Buy Utility Poles For Sale
Get a quick quote from Select Mat today for your T&D project. Our team is experienced with all types of climates and regions.
We've provided road mats, pipeline solutions, and T&D products to over 17 states, so we can help you figure out the best size and treatment type for your job. If you need utility poles for sale, we can help.
How Long Will Wood Utility Poles Last?
Wood power poles are depreciated over 35 years. However, they can last much longer than that. In fact, with proper maintenance, they can last up to 70 years. That said, each pole should be inspected every 8-10 years according to industry surveys. The longevity of poles will vary by region, weather, and by the amount of maintenance they receive.
One factor that increases the lifespan of wood utility poles is the use of preservatives. The most common type of preservative is an oil-type called pentachlorophenol. The second is a waterborne preservative called chromated copper arsenate (CCA). The AWPA (American Wood Protection Association) only approves of waterborne and oil-type preservatives for treating wood poles.
All utility poles for sale from Select Mat will be treated with preservatives approved by both the AWPA and the EPA.
Does Select Mat Sell Used Utility Poles?
Some customers have asked if we sell used wood telephone poles. We do not, and we don't recommend buying used utility poles. This is because every wood pole needs to last as long as possible – ideally for decades.
Used wood can mean compromised integrity or a significantly shorter lifespan for a pole. In the event that a pole breaks, it can cause anything a power outage, communication outage, natural disaster, property damage, injury to bystanders, or even death of bystanders or maintenance workers.
This is why Select Mat only sells new wood poles, and why we recommend you only buy new poles. Buying only new telephone poles for sale adds predictability and protection for you and for the population being served.
Wood Poles Vs Steel
Generally speaking, wood utility poles are the most cost-effective power pole option. Alternative materials such as steel and concrete can have a longer lifespan. However, when factoring overall life cycle costs, wood holds up very favorably in return on investment.
Additionally, independent peer reviews and life cycle assessments have shown that wood poles use less energy and have a more positive environmental impact than utility poles made of steel, concrete, or alternative material.
Utilities seem to prefer wood over steel. More than 99% of distribution lines are built using wood over steel. Bottom line – wood is simply a cost-effective, energy-efficient, and well-performing material in terms of providing public electricity.
Need Construction Mats for Your T&D Project?
Select Mat sells and rents road mats for pipeline work, construction jobs, and T&D work. In addition to utility poles for sale, we provide every standard type of construction mat. These include:
Crane mats
Composite mats (HDPE mats)
CLT wood mats
Laminated wood mats
Timber mats
If your T&D project requires access matting and heavy duty vehicle support, make sure to mention that when you ask for wooden utility pole cost estimates. Construction mats can make your transmission installation job significantly safer and smoother.
Mud Mat Installation and Removal
Select Mat offers construction mat installation and removal services so that your project can get off the ground faster and finish on time. We even provide an onsite project manager for orders exceeding 1,000 mats. These ground mat experts can ensure the fastest, safest and most efficient installation, helping you get the most out of your purchase or road mat rental.
Get a Quote on Mats and Utility Poles for Sale
To find out the best mud mat products for your project and get a fast quote, contact Select Mat. We focus on delivering quick quotes so that you can avoid costly delays, hit your project incentives, and keep your operations flowing. Get a quote on telephone poles for sale today!