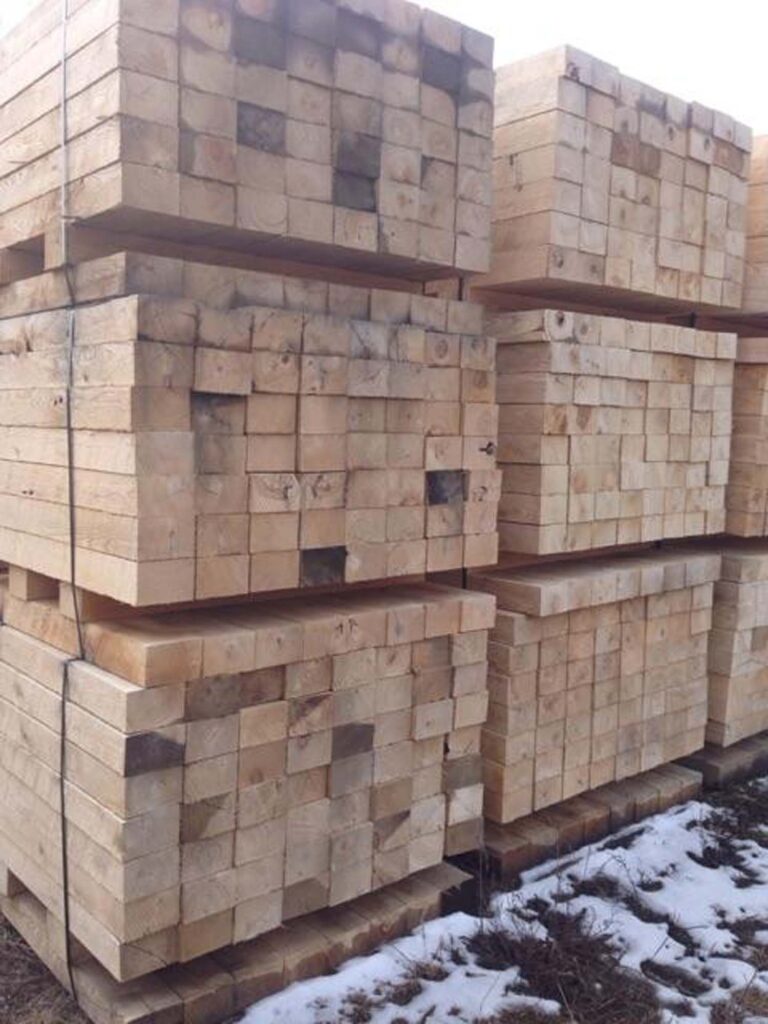 Pipeline Skids For Sale
Poorly supported pipeline are a serious hazard. Not only can they wreck your project, but they can also cause serious energy or even death. That's why Select Mat offers pipeline skids in addition to construction mats.
Pipe skids are useful for cribbing, racking, and elevating oil pipeline. We sell full sawn pipeline skids to support your pipeline and make your project safer, easier and more efficient. We can meet small orders or fulfill orders of over 100,000 skids.
Safety & Support Specifications for Pipe Skids
All of Select Mat's pipeline skids are hardwood full sawn skids that come in the standard size of 4″x6″x4′.
We recommend buying full sawn skids for the consistency and reliability of the cut. When you are installing your skids and laying them one on top of the other, even an inch of difference in the cut of one skid could make your set up significantly less stable. In other words, even small differences in the cut or dimensions of skids for pipeline can create a safety liability.
Full sawn skids are cut in the exact same dimensions each time, so freight capacity is always predictable. Trucks can 1,148 pipeline skids.
Pipeline Cones – A Lightweight Alternative
Pipeline cones serve the same function as hardwood and timber skids. However, they are made from composite material rather than wood. Pipe cones can offer significant cost savings over skids due to their much lighter weight, which will save you money on freight expenses.
Moreover, one person can load a pipeline cone, which increases the ease of installation. They also come in a variety of shapes and sizes, so they can meet the needs of your project. Additionally, they have a higher rate of reusability due to their composition. Cones for pipeline are made from composite material, so you don't have to worry about them rotting or cracking.
Pipe Cones vs Pipeline Skids
While both products are proven and reliable choices for your oil and gas project, pipeline cones offer significant advantages over pipe skids. These include but are not limited to:
Light Weight
One person can load a pipeline cone, which makes installation easier. Not only that, but it can save your project significant freight costs.
Reusability
Cones are made of composite material. In other words, they don't absorb contaminants, they can be easily cleaned, and they don't rot.
Support Strength
Pipe skids and pipe cones are both more than sturdy enough to support pipeline in storage or on the job site. However, because they are made from composite material, pipeline cones aren't susceptible to cracking or rotting.
Fit
Unlike pipeline skids which come in a standard size that generally fits all pipe sizes, pipeline cones need to come in a shape that conforms to the specific oil pipeline being used. That said, pipe cones come in a wide variety of shapes and sizes to match the different shapes and sizes of pipes. So don't worry about whether or not there's a cone for you, because there probably is.
Available Near You
Select Mat provides construction mats, wooden utility poles, and pipeline solutions to the entire continental US. Currently have served over 17 states across the east coast, inland, northern, and southern United States. These states include Texas, Oklahoma, Louisiana, North Carolina, South Carolina, Kansas, Ohio, and Pennsylvania. Wherever you are, we can deliver the order size you need.
Are Used Skids For Sale With Select Mat?
Select Mat does not sell used pipeline skids. We because we believe that they are not worth the potential safety to our customers.
With used hardwood, the lifespan is going to be shorter. Not only that, but using used skids for pipeline means that there is the possibility of using rotted or cracked wood to support your pipe. The integrity could be compromised without you being aware. This could create a danger to your project workers who will be working underneath and around your oil pipeline.
Get Mud Mats to Support Your Machinery
Select Mat is full-selection provider or construction mats for pipeline projects and construction work of all kinds. We provide wood mats and HDPE mats, as well as fast quotes, installation, and removal.
The following mud mat options are available through Select Mat:
Crane Mats
Composite Mats
CLT Mats
Laminated Mats
Timber Mats
If you need to create safe and stable access on your pipeline project, make sure to ask about buying or renting mud mats when getting your pipeline skids cost estimate.
Get Fast Installation with Select Mat
Select Mat offers construction mat installation for orders exceeding 1,000 mats. We focus on delivering fast quotes so that your project can hit your incentives and avoid delay costs. Click the button below to contact our team and get a quick quote. We're excited to get your project taken care of!