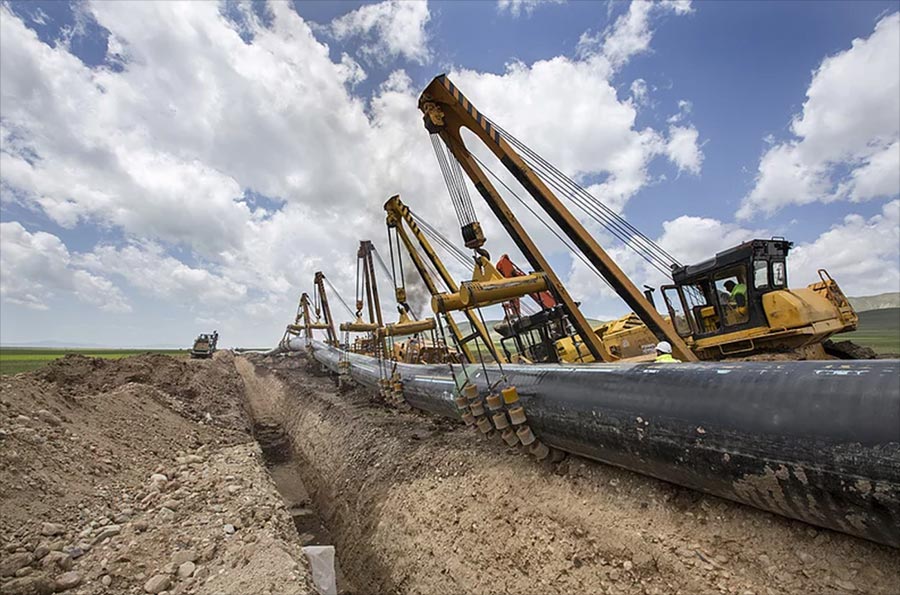 Heavy Duty Crane Mats for Safety & Stability
It's crucial that your job site be as stable as possible to support your cranes and other heavy duty tracked machines. That's why Select Mat offers crane mats for sale anywhere in the Continental USA.
We offer every size and type of crane mat (a.k.a. bridge mats) to maximize efficiency and access on your job site. Not only that, we regularly provide for T&D work, Pipeline projects, Oil & Gas, and general construction.
Crane Mat Benefits
Crane mats (a.k.a bridge mats) are the thickest and largest category of construction mats. Therefore, they can provide for the widest variety of construction needs.
Tracked Machine Support
Aside from supporting cranes, this type of matting is the ideal temporary road matting for tracked machinery. These include bulldozers, excavators, and track loaders. If you know that your job site will be using tracked machines, then crane matting should be considered. Be sure to ask our mat experts about bridge mats to make an informed purchasing decision.
Ideal for Air Bridges
Crane mats are the only type of construction matting we recommend as foundational support for pipeline air bridges. The thickness of the mats means that they are the most reliable mat to support vehicles and machines that need to travel over a pipeline gap. You can potentially use other construction mats as additional support, but air bridge pipeline jobs belong to the crane mat.
Environmental Protection
It's important that your crew protects the ecosystem of your job site, and construction mats are immensely helpful in this capacity. They protect the ground and help ensure that the minimal amount of toxins and harmful chemicals are passed to the environment. Crane mats are fantastic in this capacity, particularly due to their thickness.
Stability
Crane matting is the thickest type of construction mat available. As such, it can add a whole additional level of stability and safety in marshy and swampy ares. Generally speaking, if your job site is in muddy terrain or swamp land, you should consider adding bridge mats to your order. Again, make sure to ask Select Mat about this mat option when getting your Quick Quote.
Crane Mats For Sale Near Me
Select Mat serves the entire Continental United States. Wherever you are, we can supply you with whatever size and application of bridge mat you need.
We have currently served in over 17 states, including TX, AL, IL, KS, LA, MS, MO, NE, NJ, NM, NC, OH, OK, PA, SC, TX, VA, WV.
Available Sizes
Select Mat sells every standard size of crane mat for your project:
4'x12'x12″
4'x16'x12″
4'x20'x12″
4'x24'x12″
4×30'x12″
4'x40'x12″
Bridge Mats vs Other Construction Mats
Generally, crane mats are the thickest construction mat available. This means that if you have a lot of tracked equipment and heavy duty machinery, bridge mats should be considered for your site. That said, there are other types of mud mats that might suit your needs as well.
Laminated Wood Mats
Laminated mats are a basic mud mat choice. They are three layers of wood bolted or nailed together. They are an economical choice for supporting rubber-tired vehicles. However, we do not recommend pairing them with tracked machines. Bridge mats are superior in that respect. Laminated matting is fantastic for helping you cover a lot of ground for your standard rubber vehicles.
CLT Mats
CLT mats are another type of wood mat with different engineering than laminated mats. Rather than being bolted or nailed together, they are held together with industrial-grade adhesive so that there are no gaps in the mat. Another distinction is that they are often made from pine wood. When this is the case, they are usually lighter than laminated mats, which can save you money on freight.
Like laminated mats, CLT wood mats can be a great choice for rubber tires. They are highly similar to laminated matting in terms of functionality and practical use. However, unless CLT mats have five layers, they should not be used to support tracked equipment.
Timber Mats
Timber mats are the most similar type of construction mat to crane matting. They are the next-thickest wood mat, and their engineering is similar. This makes them able to support tracked machines. Some types of timber mats can cover more surface area than crane mats, so this is something to consider when ordering construction mats for your job site.
However, not all timber mats cover more ground than all crane mats. To understand the different sizes available in each type, here's a side-by-side comparison.
Timber Mat Sizes
4'x16'x8″
4'x18'x8″
Crane Mat Sizes
4'x12'x12″
4'x16'x12″
4'x20'x12″
4'x24'x12″
4×30'x12″
4'x40'x12″
Composite Mats
Composite matting is made of HDPE plastic. This is why they the mud mat with the highest degree of flexibility and therefore relatively easy to install on any terrain. They are non-absorbent, meaning they don't absorb toxins from the environment. Composite mats also don't rot, warp, or crack, giving them an advantage over wood mats in terms of longevity and durability. They are easy to power wash, dry, and store.
Another unique attribute of composite mats is that they link together in an overlapping fashion. This means that there are no gaps between each mat when HDPE is used to make an access road.
Along with crane mats and timber mats, composite mats can support tracked machines. However, HDPE mats aren't suitable for building air bridges. Because of their flexibility, they will bend over the pipeline gap. We only recommend crane mats for building an air bridge.
Should You Buy Used Crane Mats for Sale?
Our company doesn't recommend buying used crane mats. Because of the weight and size of the machinery being supported, the integrity of every crane mat should be ensured. With used wood mats, there is always the possibility of cracked or rotted wood, and it can be difficult to ensure that the mats aren't compromised in any way.
In other words, for safety reasons, Select Mat only offers new crane mats for sale.
Crane Mats Houston TX
Select Mat is located in Magnolia, TX, just forty miles northwest of Houston. As such we regularly provide crane mats to Houston TX customers. In fact, the majority of our clients and projects served are in Texas! If you are in oil & gas and have a pipeline project that needs crane matting, give Select Mat a call at 833-203-1515 to get a quick estimate for your needs. Our mud mat experts will be to provide fast expertise, delivery, and installation.
Select Mat Offers Bridge Mat Installation & Removal
Our company offers temporary road mat installation and removal services. For orders exceeding 1,000 mats, we provide an onsite project manager to ensure rapid and efficient matting installation on your job site. This can help you finish on time and hit your financial incentives. Not only that, but quick removal at the end of your project can cut down on costly overtime expenses like hotel fees and delay penalties.
Select Mat offers every type of road mat:
Composite mats (HDPE mats)
CLT mats
Laminated mats
Timber mats
Bridge mats
In addition, we offer pipeline products and T&D solutions for sale:
Pipeline skids
Pipeline cones
Why You Can Trust Select Mat
Our company focuses on providing rapid quotes and installation with integrity. We understand that you need to get moving on your project quickly in order to hit your incentives. Not only that, but we know that delays in starting or finishing a project can cost you a lot of money. Installing construction mats for access is a crucial step in starting a project, which is why we focus on speed.
In order to give you next-level service, we provide onsite project managers to oversee the installation and removal of your mats on qualifying orders of 1,000 mats or more. Providing project managers is advantageous in a few ways. First, having a mat expert means that your access roads get installed with greater efficiency. Not only that, but we will help you identify the best mixture of construction mats for your job site, machinery, and budget.
We are a transparent company that believes in putting the customer's needs first. Therefore, we will help you assess your needs with integrity.
Want More Information on Crane Mats?
Call Select Mat at 833-203-1515 for more information on mats, installation, and pipeline project solutions. Our total focus is construction mat supply and servicing, so our team can help you make an informed decision on the best types of mats for your job site.
Get a Quick Quote Today
Contact Select Mat for a rapid estimate. We work hard to ensure fast turnaround on our quotes so that you can get your project underway as soon as possible. Our team of experts is happy to answer any questions you have related to construction mats, crane matting, or site access. Click the button below and see the difference for yourself.